Sports
Big Pedal Challenge  (25th February – 5th March)
For these 10 days, we will be competing with other schools nationally to see who can get as many of their pupils, staff and parents cycling, walking or scooting to school. Our school's best five days will determine our final position. We hope to encourage more children and parents to consider how they travel to and from school.
Play Leaders (School Games) 
We have now set up some further playground challenges for all pupils to improve their fundamental movement skills. Look out for the pink activity signs, or year six pupiils, to help you get better at jumping, running, throwing and catching.
Netball Club (25th February – School Games)
Miss Welch is now running an after-school netball club on Mondays. Ask for more details.
Wellness Kickstart Day (8th February)
We had a fun morning starting our day with a 'Wake up,shake up'! Pupils really enjoyed completing fitness tests and are very motivated to improve their fitness over the coming weeks.
Football League (School Games)
Well done to our school football team on their recent league results. Very strong defending from the whole team.
St Elizabeth 0-0 St John Fisher
St John Fisher 2-0 Crossacres
St Aiden's 0-0 St John Fisher
Willows 3-0 St John Fisher
St John Fisher 1-0 Benchill
Wythenshawe Athletics Competition (School Games)
Another fantastic event hosted by St Paul's on the 27th November.
Final Positions
St Kentigerns 308 pts
St Anthonys 302 pts
Rackhouse 296 pts
The Willows 250pts
St Wilfrids 200pts
St Elizabeths 194 pts
St John Fisher 166 pts
Northenden 162 pts
St Peters 140 pts
INSPIRE Multi-skills Festival (15th November – School Games)
Our year 3s thoroughly enjoyed this new multi-skills festival, which focused on agility, balance and co-ordination. You all did our school very proud.
Morning Active Breakfast Clubs (School Games)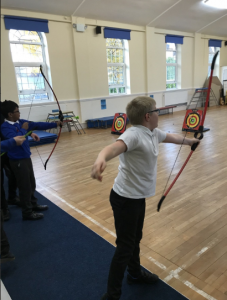 There is no better way to kick-start your day than with a bit of exercise. If you would like your child to get active in the morning, why not sign up to one of our morning breakfast clubs.
Football League        5/11/2018 (School Games)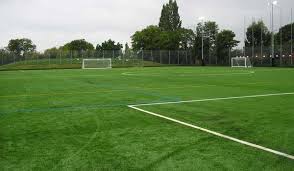 Our first football league match took place today against Baguley Hall Primary School. We battled until the last minute and took many positives from the game. Players of the Match: Daniel D (unbelievable saves) and Scott R (stamina, teamwork and determination).
Bleep Test         4/10/2018 (Personal Best Challenges – School Games)
Our Key Stage 2 pupils are trying to beat their personal best scores in the Bleep Test. It is amazing to hear them ask if they can do it all again!
Tag Rugby         27/9/2018 (School Games)
A fantastic evening of Tag Rugby League at MHA. A big thank you to the young leaders from MHA who were a credit to their school!
Cross-Country  19/9/2018 (School Games)
Well done to all the boys and girls who took part in tonight's cross-country competition – you all ran your socks off!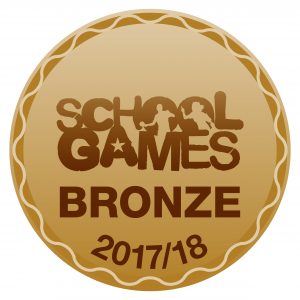 We did it! We earned the Bronze School Games Mark. Thank you to all parents, staff and Shooting Stars for your support this year.
 Zumba Taster Day 5/1/2018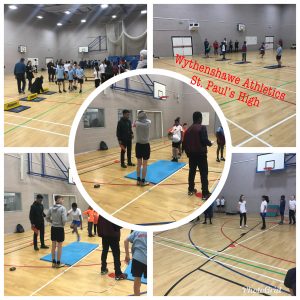 Change4Life Festival at Platt Lane Complex (22/11/17)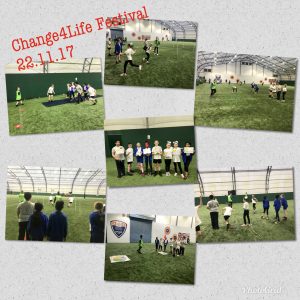 Lacrosse Competition at Whalley Range High School
Well done to our Year 6's who competed in four games of Lacrosse on the 20th November. After a difficult start, we managed to get a well-earned win to finish the evening!
Mini-Tennis at Manchester Health Academy (9th November)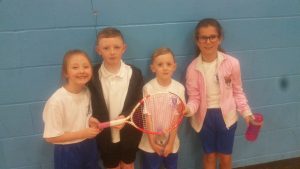 Fantastic tennis tonight from Ella-Mai, Connor, Callum and Natalie! Well done!
Ghyll Head at Lake District (Year Six OAA Residential)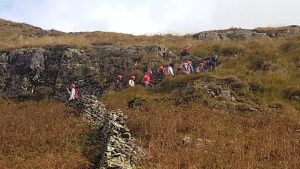 Canoeing, orienteering, zip-wiring, hiking, scrambling… just some of the magnificent activities our year six pupils got to experience this week!
Girls' Football Festival at Platt Lane Complex (10th October)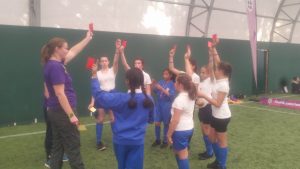 We had a wonderful day working with the FA to take part in many fun activities, such as face-painting, officiating, freestyle football and target practice. The goodie bags to take home capped off a superb day!
Tag Rugby Competition at Manchester Health Academy (28th September/5th October)
Well done to our Tag Rugby team for finishing joint second with Alma Park Primary School in our week two fixtures. You made such fantastic improvement in comparison to week one.
School Games Cross-Country Competition at Wythenshawe Park (20th September)
Congratulations to our 8 new Y5 runners who took part in their first Cross-Country competition.
National Daily Mile Day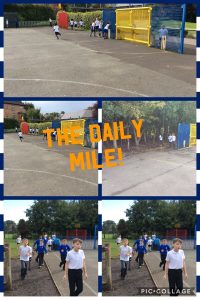 Citywide Athletics Competition (Etihad Athletics Centre)
A huge congratulations to our 5 girls and 6 boys who took part in an athletics competition on the 6th July. You were excellent ambassadors for our school!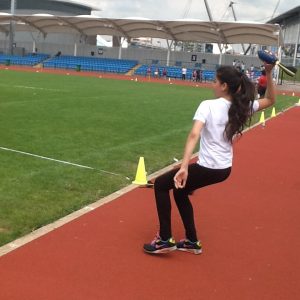 Year 5 Sports Day at St Paul's High School
Well done to our Year 5 children for coming 1st! You worked so well as a team and thoroughly enjoyed the rounders, table tennis, basketball and football.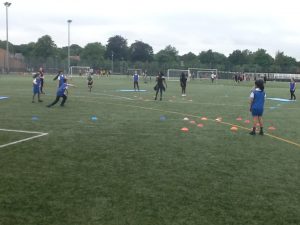 Super Athlete Fundraising Event
Thank you for all of our school community for helping us to raise over £900 for our school. The children are very proud of our achievements.
Skip2bfit
It is fantastic to see all of our children competing against their Personal Best. Everyone thoroughly enjoyed our skipping workshops and have been very determined to beat their score during each two-minute skip. During our final half-term, we will be giving certificates out to children who show the "Best Effort" and those are the "Most Improved".
Swimming Gala at the Forum
What an impressive performance at this year's swimming gala. We had 4 x 1st place finishes and 2 x 2nd place finishes.
A special mention must go to Mia H for winning all of her races, as well as Julian S and Elijah M for showing a super competitive spirit.
Dodgeball Competition at St Paul's High School
We spent a lovely evening at St Paul's RCHS taking part in a dodgeball competition competing against nine other primary schools.
A special mention must go to the following Year Six children, who shown marvellous teamwork and honesty throughout the competition.
Other recent events at St Paul's High School: Indoor Athletics Y5 & 6/Basketball Y5
Gymnastics Club
Our children are thoroughly enjoying our Wednesday after-school gymnastics club and developing their skills each week. Well done to all of you who have shown fantastic commitment attending.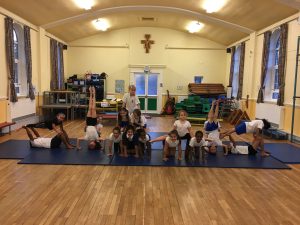 Hi5 Club
The Hi5 club have had the opportunity to put their skills into practice after several weeks of training. They have enjoyed competing against local primary schools such as Haverley Hay and Sacred Heart.
Monday Milers Club
Increasing numbers have been attending the early morning running club, however there is still plenty of space for more. Everyone has increased their stamina and fitness levels in each session, as well as set themselves up for the day ahead.
Football Club
Key stage one children are really enjoying their Thursday evening after-school club. The enthusiasm in each session is wonderful to see!
Citywide Primary Cross-Country Finals at Phillips Park, Manchester. 
After three weeks of competition at Wythenshawe Park, the boys' team reached the Citywide finals, as well as Stacey from the girls' team. A huge congratulations is necessary because week on week comparisons shown tremendous progress in performance. A special mention to Jack, who managed to secure 5th place overall in the competition!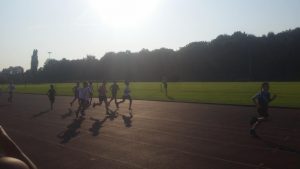 The Premier League Schools Competition at City Academy
The children took part in a football competition at Manchester City's training academy, which involved 65 schools in total. We finished 2nd out of 5 having won (3-0), lost (1-2) and drew (2-2). Goals were scored by Jack (4), Carlton (1) and Adam (1). Danny rattled with the crossbar with a thunderous header and Carlton with a super strike from the halfway line.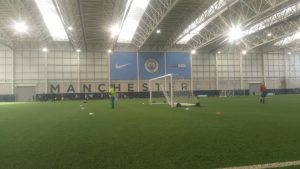 FA Coaching
Year 5 children have benefited from receiving weekly FA coaching sessions during the Spring term. At the start of the unit of work, large numbers of pupils stated that they disliked football. However, by the end of the unit, all children were excited to develop their footballing knowledge.